BAMEP or "Balikbayan Missionaries Enrichment Program" is designed for Filipino Missionaries both religious and lay, who have done apostolic work in foreign missions and are either on home leave or permanently re-assigned to the Philippines. After 5 years in the ministry of pastoral care in Saipan, Sr. EDNA APOLONIA, came home last May 2007 to be re-assigned in the Philippines. Likewise, Sr. MARIVIC CHING who experienced 3 years of pastoral mission in Chile has been home since August 2007. Both of them participated in the 18th BAMEP Seminar from December 1 -10, 2007 held at the Holy Spirit Mission Center, Tagaytay City.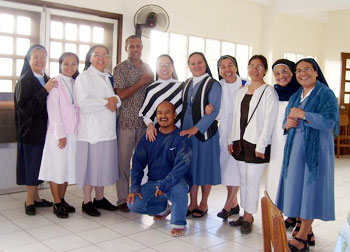 It was a very enriching opportunity for returning missionaries to integrate their cross cultural experiences by reconnecting them with their present realities in the Philippines. The holistic approach to prayer, study and reflection in the context of shared life in community with other missionaries – from Congo, Botswana, Mongolia, India, Argentina, Spain, Pakistan, Korea, and Papua New Guinea, particularly helped them to look back with the eyes of faith and re-tell their own stories in the mission with grateful heart.
With renewed faith and trust in the faithful God who called and sustained them to proclaim the Gospel and share their life, they came out re-invigorated and able to let go and be healed, to allow God to make them whole again so as to be better prepared to commit themselves anew--as consecrated missionary women disciples for the humanity of today be it in the Philippines or wherever Jesus our Good Shepherd will lead them to.