Last August 30 to September 1, 2007, the Beloved Group composed of ten perpetually professed sisters took time out from their communities and apostolic involvements to be together for an encounter.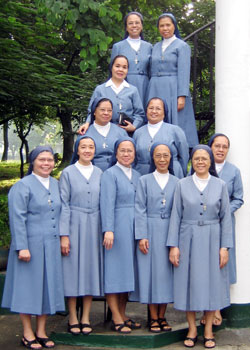 The Beloved Group is composed of Srs. Lucita Saligumba, Cely Maderal, Aida Virtudez, Mel Ababa, Carmelita Gamulo, Rosalinda Defensor, Charmie Esquilona, Annie Lumogdang, Ales Paz Pamplona, and Veronica Gungon. Srs. Cynthia Angalot, now in Saipan, Rosa Mia Garnace, assigned in Australia, and Brenda Balingasa, who had to be in Palawan, belong to this group but were not able to join. Sr. Jesusa Villaverde, incharge of the ongoing formation of this batch was the facilitator and guide.
When the group planned for this encounter, the purpose is to strengthen the bond of relationship among them, to provide a time to pause awhile and relax a bit from the busy-ness in the apostolate, to pray, to enjoy the presence of one another, and to go back to their respective communities invigorated physically and spiritually for a more effective presence in the community and apostolate.
This encounter was blessed by Godís Providence in so many ways. The venue was made available through the kindness of Fr. Nestie Gungon, the brother-priest of Sr. Vigie. The house was just right for the group with all the facilities needed to hold the conference, to pray together and to have some sharing, to relax and recreate together, and to share the food at mealtime. For the morning Mass, the Parish of the Holy Spirit was also near the house where the group stayed. Everything was provided by the Lord to attain the purpose of such encounter.
Sr. Sue led the group to reflect on the Scripture passage taken from Luke 5:36-39 (or Mt. 9:16-17 and Mk 2:21-22) on the parable of the garment and wineskins to introduce the few days together, bonding more deeply and meaningfully both the old and new relationships and to emphasize the newness of Jesusí gospel. Indeed it was a time to discover new attitudes and possibilities, to leave the familiar behind and face new challenges. The songs, CARRY ON and PILGRIM SONG, were sung this time with significance and new-found meaning.