Philippine - Saipan Province
First batch Spiritual Exercises
We, the PI-Saipan first batch of retreatants had joyfully completed our Spiritual Exercises of the 2nd week held last October 30-November 6, 2007 at the Carmelite Missionaries Center for Spirituality in Tagaytay City, directed by Sr. Marta Finotelli, Superior General, and assisted by Sr. Purissima Tanedo, Secretary General, who translated the materials to English for us non-Italian speaking Pastorelle.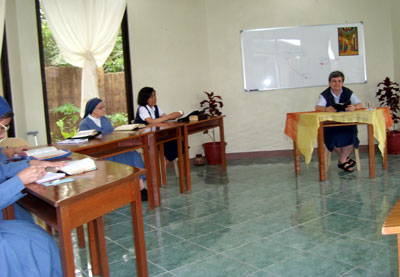 The retreatants of the second week were composed of Sisters: Innocenza Turra, Cristina Justo, Catherine Cleofe, Lily Ann Santos, Ma. Rita Siochi, Jesusa Villaverde, Cynthia Angalot, Teresita Sosa and Ales Paz Pamplona. We began the encounter with the Paschal Mystery of Christ through the meaningful reliving of our Baptism on the opening day and ended with the renewal of our Religious Consecration on the last day.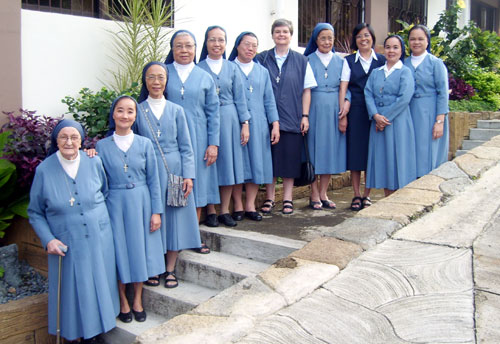 Both occasions strongly empowered us anew with the gifts of the Holy Spirit that led us to contemplate the face of God in the many triumphs of the Father's mercy and abundant love over the various "deaths" we experienced in life. With the light of His grace and our docile response to His promptings, we were made aware of the subtle lure of the adversaries very much present in our daily life. We also realized that only by the same grace and self discipline were we strengthened to resist every temptation which could have drawn us away from the faithful following of Christ.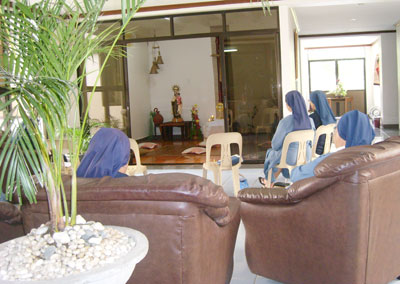 Thank you, Sisters for accompanying us in this demanding spiritual journey with your prayerful support. We thank the Lord in particular for the silent witnessing to the joyful self-giving of both Sisters Marta and Puri who exhausted every ways and means to live their gifts to the fullest in order to facilitate the outpouring of the Spirit on us and the deepening of our intimacy with Jesus.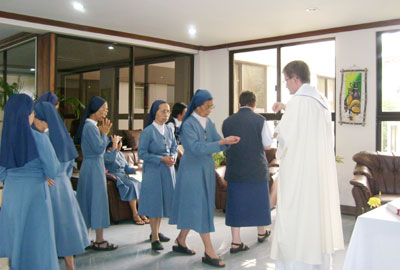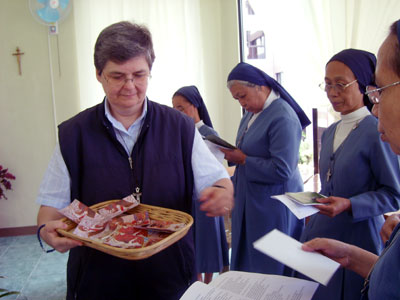 May our faithful and joyful living of our own Paschal Mystery in union with that of Christ's in the days ahead speak of our sincere thanks for all the blessings we received these days of our Spiritual Exercises.
May Jesus our Good Shepherd and Mary our Mother, bless us all!