Philippine – Australia – Saipan Province
Sr. Rosa Mia Garnace celebrates her Silver Jubilee
On Sunday, 10th April 2011, Sr. Rosa Mia Garnace celebrated the 25th anniversary of Religious Profession as a Pastorelle Sister and renewed her vows during the 9.00am Eucharistic celebration in St Paul's Church, Coburg, surrounded by the Pastorelle Sisters from the three communities of Melbourne and Adelaide.
St Paul's parish is home to Sr Mia for there she has faithfully carried out her ministry of pastoral care since 2005 especially in the care of the multicultural community and its young members.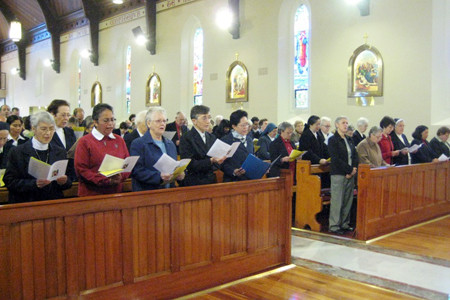 In the Church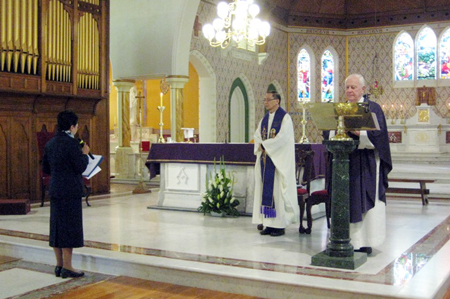 Renewal of vows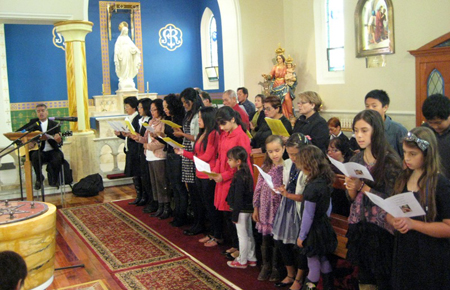 The Choir
As well as a large number of parishioners, present were the Daughters of St Paul, the Sister Disciples of the Divine Master, Fr Nestor Candado SSP, Regional Superior of the Society of St. Paul in Australia, our Pauline Cooperators and also many Religious Sisters from different Congregations. We were very pleased that Sr Margaret Dwyer RSC, Vicar for Religious in Melbourne was also able to join us. Principal celebrant was Fr Sean O'Connell, parish priest, and Fr Nestor Candado SSP as concelebrant. The liturgy was beautifully enhanced by the choir which is made up of many young people.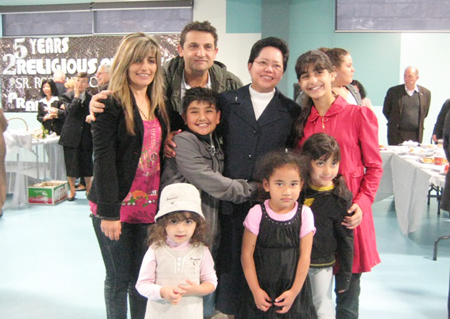 Parishioners
The Mass was followed by light refreshments in the parish hall during which Sr Rita Ruzzene presented Sr Mia with two special gifts to mark the happy occasion: the Bible reminding her of the centrality of the Word of God in our life, and a Candle as a symbol of the light of Christ along the journey.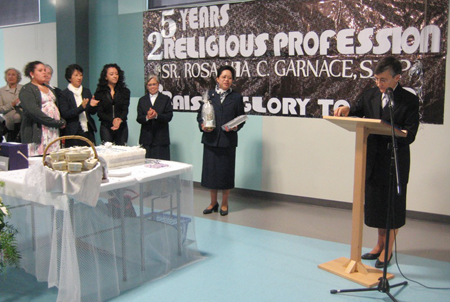 Sr Rita congratulating Sr Mia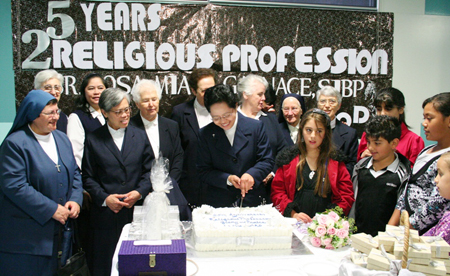 Cutting the cake
Sr Mia was also warmly thanked by Lovie Armenia and Arsing Savino, both close collaborators, for her rich contribution to the spiritual life of the multicultural community and her leadership in the formation of the youth of that community. They presented her with a generous donation that will go toward the Feeding Program that the Pastorelle Sisters promote in Lingayen, Philippines. Envelopes were also made available for anyone wishing to make a contribution towards that Feeding Program. Francesca Armenia delighted everyone with the song "I surrender all to Jesus".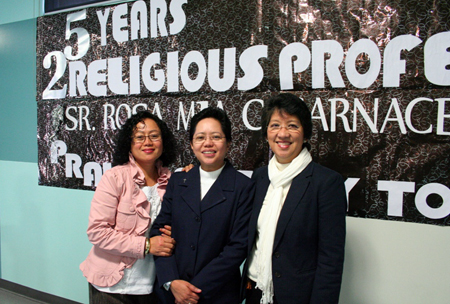 Arsing & Lovie, co-workers
In her response, Sr Mia thanked God for 25 years of reassurance that God has been her Shepherd, indeed from the moment she was conceived up to this moment of her life. She also highlighted the experience of privilege and challenge in living out her Religious Life as a Pastorelle Sister.
To complete the joy of the day we gathered with the Pauline Family, the Armenia family and our Vietnamese Seminarian friend Dong for a delicious meal at St Marco restaurant next door to St Paul's Church.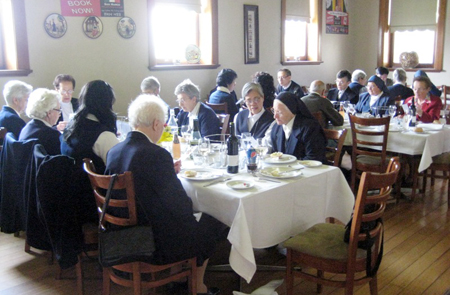 Lunch with Pauline Family & Friends
Sr Mia will leave for the Philippines on 27 April and will join Sr Ma. Veronica M. Gungon for the celebration of their Silver Jubilee on 14 May in the company of the Sisters in the Philippines and their and families and friends.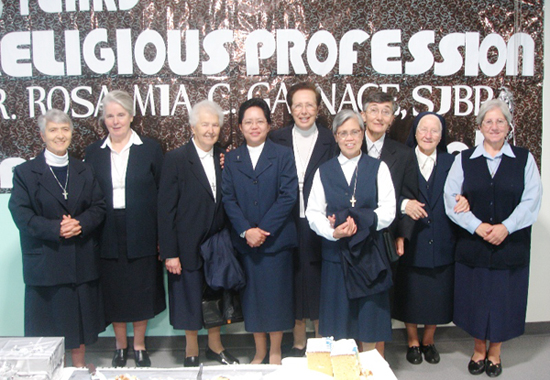 Pastorelle Sisters
With unfailing trust we continue to proclaim "The Lord is my Shepherd, there is nothing I shall want!"
Sr. Mary La Bruna sjbp