The Presidential Award is a biennial award system which was institutionalized through Executive Order 498 signed by former President Corazon C. Aquino in 1991.There are 4 categories under the Presidential Awards. The year 2010, nominees were 110, coming from 23 countries. The nominees underwent screening of three different times with representatives from government agencies, academe, religious and private sectors. Out of the nominees, 13 individuals, 7 Filipino organizations, one foreign group and 3 foreigners were chosen and awarded by President Benigno Aquino III at ceremonies organized by the Commission on Filipinos Overseas (CFO) at Malacanang Palace last December 14, 2010.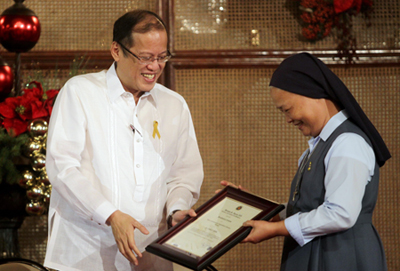 Sr. Lucia C. Olalia of the Sisters of Jesus Good Shepherd "Pastorelle" is one of those who received the award under the Banaag category. The Banaag Award is a recognition of her outstanding service and tireless efforts to extend the much-needed assistance to distressed migrants in South Korea, and her resourfulness in providing solutions to cases involving violations of human rights of Filipinos overseas.
The CFO describes her as "a woman, a religious and a worker with heart and passion". Her zeal and dedication to what she does, give courage to those who come to her for help. With her, the migrants know they have someone who journeys with them- nurturing, guiding and leading them, like a shepherd leading his flock. Her award is also a recognition of the congregation's response to the signs of the time- the foreigners in the land, who are considered as "poor" in the Bible.
The Sisters of Jesus Good Shepherd "Pastorelle", assigned Sr. Lucia to South Korea on August 3, 2001. Since then, she has responded to the different needs of the foreigners there, especially the Filipinos. In 2004, together with other sisters from different congregations, Sr. Lucia started the Friends Without Borders Migrants Center, an inter-congregational mission, as a response to the needs of the migrants in Korea, regardless of their nationality, ethnic origin and religious affiliations. She served as a pastoral worker for almost 8 years at the Catholic International Parish of Seoul, doing her best to create a "home" away from home, for the foreigners who frequent the church. Out of her busy schedule, she finds time to also visit the prisoners in Taejon. She did not limit herself to reaching out to the workers but have also extended assistance to women married to Koreans, who are abused physically, emotionally, psychologically and even sexually. To this day, Sr. Lucia works at the Kasan Migrant Workers' Center, under the diocese of Chuncheon. She compares her role at the center as sometimes a grandmother, a mother, a mother in-law, a friend, a sister – the role of a woman, all rolled into one. She considers every person … a brother or a sister. She says that she finds strength through the support of the sisters in her community, her family, friends and most especially in Jesus her Good Shepherd. So to Him, all glory and honor be.