The East and South East Asia Apostleship of the Sea (AOS) Regional meeting was held last July 20-24, 2009 at the St. Francis Seraph Retreat House, Talisay, Cebu City, Philippines. The delegates were coming from the Vatican, Hong Kong, Indonesia, Japan, Malaysia, Myanmar, Singapore, Taiwan Thailand Vietnam and the Philippines.
The Regional meeting of AOS takes place midway between two World Congresses. This takes place to gather Chaplains and workers in the region to look, evaluate, reflect and plan AOS works in the different countries of the region.
Various issues were discussed during the meeting. Among them:
- The effects of the global economic crises that have led to laid up vessels in various ports in the world.
- The piracy problem that has threatened the safety and life of seafarers sailing along routes where pirates abound.
- The criminalization of seafarers and the unfair treatment they receive after a maritime accident.
- The said plight of fishers working in fishing vessels working long hours and receiving meagre salaries.
- The importance and urgency to have the Maritime labor Convention 2006 and the Work in Fishing Convention 2007 ratified so that seafarers and fishers may benefit from them.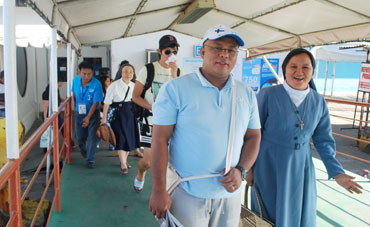 Indeed, the Regional Meeting was very enriching. It were really days of multicultural way of sharing and living out our ministry in ministering one another. The Eucharistic Celebration, Lauds and Vespers are venues of sharing one's culture, beliefs and different ways to pray for each country was given time to animate prayers.
May we never tire in bringing the message of Christ to the "people of the sea." Mary, Star of the Sea, will surely help us navigate the hearts of men so that we will be attuned to the voice of the Good Shepherd who calms the storms in our lives. We are grateful to God for entrusting to us the mission to serve His "people of the sea."